Warning: spoilers ahead!
Listen up, Gilmore fans! Everyone's favourite dramedy just released something very important. That's right, it's the first page of the script for the highly anticipated revival series, Gilmore Girls: A Year in the Life.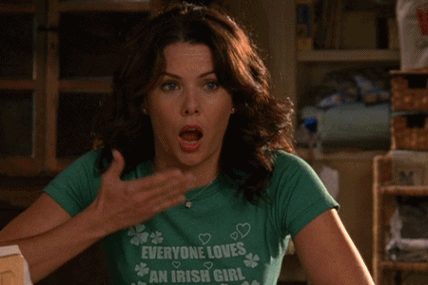 While it's been a long time coming, we're happy to say the show's creators have been extremely generous with little tidbits, spoilers and exciting promo pics. So far, we know the dynamic duo will feature in what appears to be a Stars Hollow musical (four words: Miss Patty and Babette), as well as other things like who will guest star, confirmed relationship statuses and guaranteed pop culture references.
But now we have an entire script page to fawn over, and let's just say it's everything we dreamed of and more. Without further ado, we present to you the very first page of the script for the November 25 Gilmore Girls' episode 'Winter."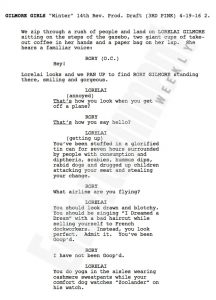 It may only be one page, but the writers have already managed to fit in a billion familiar things that made Gilmore Girls so popular. Think airline jokes, Les Miserables' references and even making fun of celebrities like Gwyneth Paltrow and her weekly lifestyle publication, Goop.
To top it off, Lorelai is drinking coffee (was there any doubt to begin with?), Rory looks 'smiling and gorgeous' (as Lorelai points out in true Lorelai fashion) and the ladies' banter is clearly still on point. We're screaming so loudly right now.
When the revival was first announced, we were super excited, but also a bit nervous. How could they possibly make it as good as the original? Would Luke and Lorelai end up together? If not, we wanted nothing to do with it. Would Rory date Jess, Logan, Dean or maybe someone else? And apparently, we weren't the only ones with reservations.
"I didn't read the last episode for the longest time because I was scared," Lauren Graham, who plays Lorelai said. "I loved how everything was teed up in the first three, and I, carrying the burden of everybody in my mind, was like, 'Oh God, what's going to happen?' And to me, it was deeply satisfying, and also it answered questions I didn't even think of. I thought, 'Oh how perfect, wow. I wouldn't even have wondered that."
Alexis Bledel, aka Rory, also voiced her opinions. "I was on page 7 or 8 when I remembered: Of course, this is that inviting town where everything is so familiar," she said. "I felt like I was enveloped back into that time and place – wherever it exists in people's imaginations, I was reminded of where it was in mine. It was so easy to just jump back in and get to work, which is lucky because I had to the next day."
Thankfully, it looks like we have nothing to worry about!
Now, let us all take a moment to pray to the TV Gods that the rest of the series is just as Gilmore-like as the one page script.