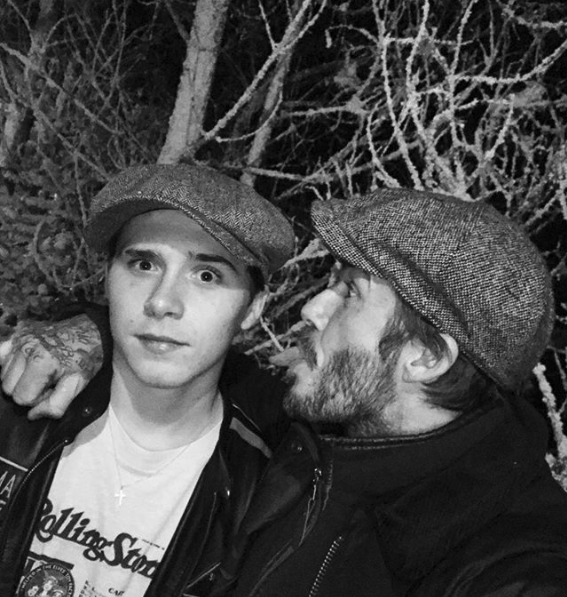 I can't be the only one that thinks parents should not be allowed on Instagram under any circumstances. For instance, my Mum just finished a challenge where she posted a photo of her dog every single day for 100 days – (keeping in mind she has all of 6 followers). But there are some special excuses when it comes to mums and dads taking over Instagram, especially when it's for our entertainment.
Here are some of our favourite dorky celebrity Instagram mums and dads that we all need in our lives:
Will Smith
Will Smith could be one of the coolest people on the planet. But we can definitely admit that he is as big of a dorky dad as he is an international superstar. The Fresh Prince of Bel Air star has been gracing our tv screens and Insta feeds for about as long as we can remember. On a recent family holiday to Italy, Smith posted a video of wife Jada and kids, Willow and Jaden, demanding them to 'perform' for his 19.6 million followers. A reclined Willow flat out refuses – and we definitely would too. We'd also love a free vacation to the coast of Italy, but beggars can't be choosers apparently.
Earlier this month he posted a baby photo of son Jaden sporting a Spiderman suit for his 20th birthday. That could have been sufficiently embarrassing. A little cringe-worthy possibly. But he couldn't just leave it at that. In the caption, he recalled his son's unique prom getup.
"And Wait… I don't know what the big deal was when you wore a white Batman suit to Prom?" Smith said in the caption.
"You have ALWAYS worn superhero suits on your dates!"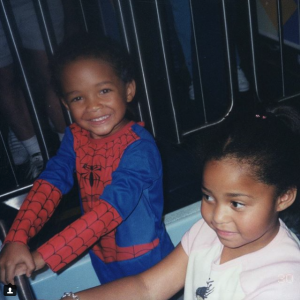 Daaaaaad, stoppppppp.
Angela Kinsey
Angela Kinsey blessed our TV screens as prickly, pessimistic Angela Martin on The Office starring Steve Carell and John Krasinski. But her Instagram persona could not be any more different to her on-screen alter ego. Her feed is full of adorable shots of her and husband, Joshua Snyder, and adorable daughter Isabelle. She also loves a good Office throwback, and is always posting behind-the-scenes pictures of her days filming with fellow castmates. As Kinsey's avid followers would know, she loves a good trip to Target, and has taken to posting about her obsession. Her followers have created some amazing memes referencing her addiction to Target, which she is very quick to repost.
Sharing this hilarious image of her and her two loves, husband Joshua and Target, Kinsey captioned the image, "This made me snort laugh!"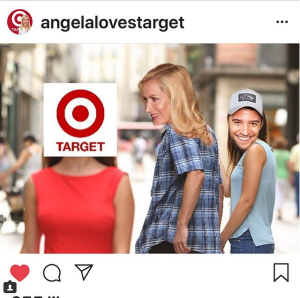 As dorky as it is, we can't help but relate with Kinsey and her love for Target. Keep up the memes Ange, because we're relating with you on a spiritual level over here.
David Beckham
David Beckham is as famous for embarrassing his kids on Instagram as he is for his soccer skills, great hair, amazing body… all of the above. Whether he's bragging about the number of followers he has or posting those adorable baby photos of his kids, Beckham has absolutely mastered the dorky dad vibe on Instagram. In between throwback shots of his soccer career and the most overboard use of hair gel I have EVER seen, Beckham peppers in shots of him and wife Victoria (Posh Spice for us Spice Girls fanatics), and their three beautiful kids Brooklyn, Romeo, Cruz and Harper.
Beckham is a fan of a good birthday shoutout for his kids. For son Romeo's birthday in March he posted this shot, referring to Romeo as his nickname "Bust" in the caption.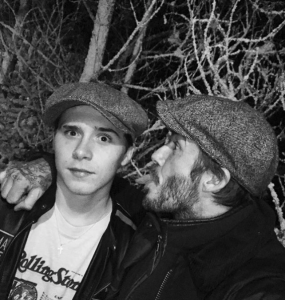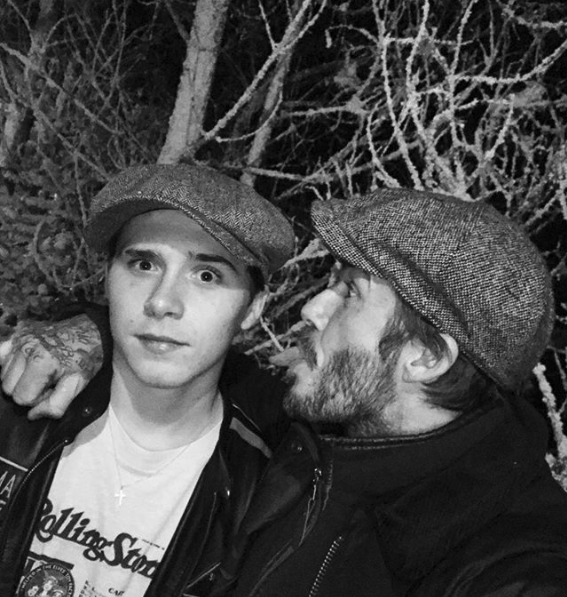 "Happy Birthday big boy… So proud of the man you have grown into …. Be passionate , be proud , be humble & be you … Love u bust," Beckham captioned the funny image.
We don't think you should be embarrassed Romeo. It just gives us another excuse to have a geeze at the absolute masterpiece that is the Beckham Family. Thank you Instagram gods.
Jessica Simpson
We've been following Jessica Simpson since her cowboy boot-wearing, Nick Lachey- dating days, and to be honest not a whole lot has changed. We all know how well her relationship with Lachey went, and the cowboy boots definitely make a comeback every now and again. The biggest difference is that she's got two beautiful little kiddies with her now – and we are loving her Instagram feed whenever they make an appearance.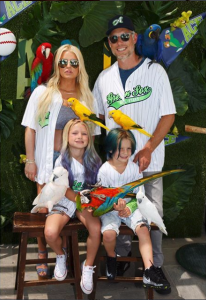 Posting this sweet photo of her with kids, Maxwell and Ace, Simpson shares in her caption, "Baseball and parrots – a five-year-old's dream come true!"
5-year-old me would have run screaming from both a baseball AND a parrot, but Ace seems about as happy as could be. I also would have run screaming from my mum if she went out to the baseball in a crop top but when your mum is Jessica Simpson I guess you can't complain.
Simpson may not have earned her "dorky Instagram mum" crown fully just yet, but she's definitely on her way there. Give it a few years for her kids to get a little older, and when they see all those pictures I can guarantee she'll earn her place with the veterans of dorky Instagram mums.
Stay tuned for more Aussie Gossip.