For some extremely weird reason, some publications believe that female celebrities are exempt from some of the natural facts of life. Kendall Jenner was snapped with a few pimples on her face… how dare she! Journos went into shock mode as headlines ranged from "The big rash of Kendall Jenner" and "Kendall's big breakout."
Bella Thorne was having none of it and took to Twitter to defend Kendall.
This makes me so beyond mad. Like what everyone gets acne !! SHES A HUMAN BEING LEAVE HER ALONE for fucks sake. pic.twitter.com/gNnaVNahVL

— bella thorne (@bellathorne) January 16, 2017
Absolute babe Madison Beer recently had totally normal, but slightly embarrassing, moment. Her period leaked slightly through her white bikini while at the beach with boyfriend, Jack Gilinsky. People accused the 17-year-old of staging the whole thing for attention… cause yeah that's a great way to get publicity.
Madison hit back with this comment.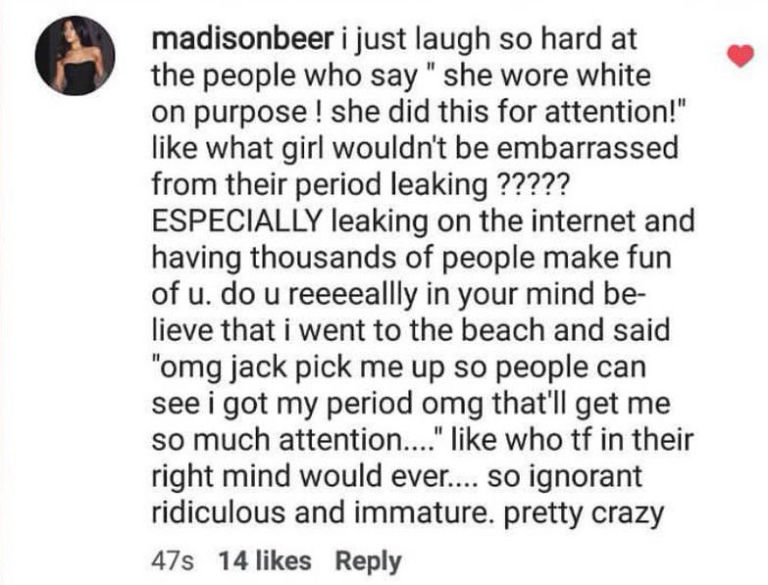 Bella totally backed her up with this tweet.
If you think someone is gross because they got their period you got a serious problem man. ITS THE HUMAN BODY GET OVER IT @MadisonBeer ❤️❤️

— bella thorne (@bellathorne) January 15, 2017
She then followed it up with this super important tweet that hopefully knocks some sense into some people.
Honestly there needs to be harsher laws against bullying and cyber bullying this is not ok.

— bella thorne (@bellathorne) January 16, 2017