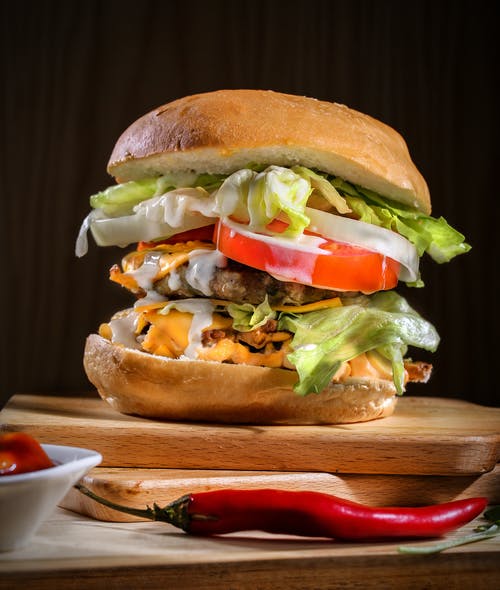 Burgers are one of the most universally loved foods, and its popularity within Australia has soared in recent years.
Whether you're a fan of the classic beef burger, or prefer vegan options, who doesn't love a good burger? 
The Aussie Gossip team are hard to please when it comes to our taste in burgers and in our time we have had our fair share of below average burgers. 
With our acquired taste, we have decided to settle the debate once and for all on which restaurants have the best burgers in Sydney. 
We ranked our top 10 places in order from 10-1 and based it on the overall quality of the burger from each venue. There are many places we wish could have been included, so don't @ us if your favourite didn't make the list. Here are our results.
10. North's Burgers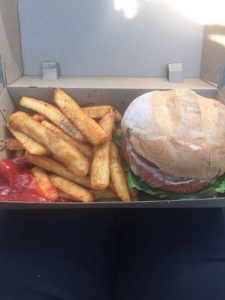 North's is the ultimate hidden gem amongst this list, and is the perfect takeaway burger for a Friday lunchtime. Located on Bridge St, Norths has the biggest variety of burgers on the list, and each one of them tastes yum. The main reason North's isn't listed higher is because it's only open on weekdays for lunchtime service. But the burgers are worth the try if you're on the hunt to try the most delicious lunchtime burger.
9. Burger Project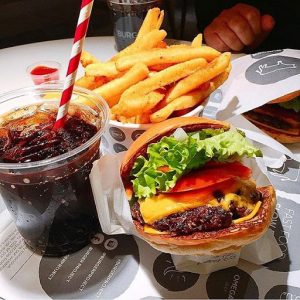 Neil Perry's Burger Project has always had to live up to the high expectations of its owner and it can be said it has largely succeeded in this. Burger Project has become incredibly popular and is often compared to Aussie wide franchise Grill'd for the style of burgers. Nonetheless, Burger Project was considered to be the most overrated of the burger places we ranked, but still nice enough to get a decent ranking.
8. Down N Out (now called High N Dry)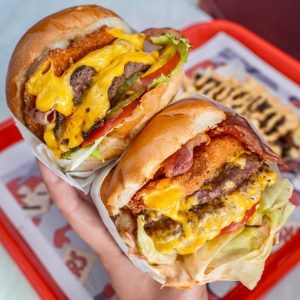 Over it's four year history, Down N Out made a name for itself as one of Sydney's most exquisite burger joints, with 5 locations across Sydney. Sadly, due to a costly legal battle with American fast food chain In-N-Out Burger, the Sydney franchise has had to close all of its venues and rebrand to its new name; High N Dry. As a tribute to the old name, and to the classic menu items that have been lost, we decided this rank suited best. Here's to hoping High N Dry will live up to Down N Out's glory.
7. Milky Lane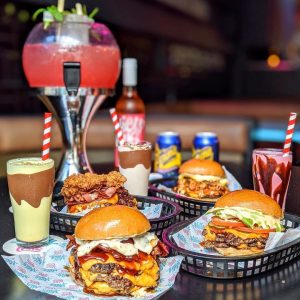 If your ideal burger experience is a massive burger with a lot of fillings, paired with loaded fries and a sickly sweet thickshake then Milky Lane is the place for you. With burgers named after some of the biggest hip-hop stars (and Kevin Bacon), it can easily be seen how Milky Lane has become one of the trendiest burger joints. Try and challenge yourself to the full Milky Lane Cheat Platter if you're up for consuming your weekly caloric intake in one meal.
6. Big Daddy's Burger Bar
Any place with the words 'Big Daddy' in the name is definitely a sign that the food is going to be good. And oh boy does Big Daddy's Burgers deliver. This American style burger joint has a wide variety of burgers (minus veggie burgers… sorry vegans) as well as all the sides you could want, including onion rings, cheesy fries and mac and cheese.
5. Betty's Burgers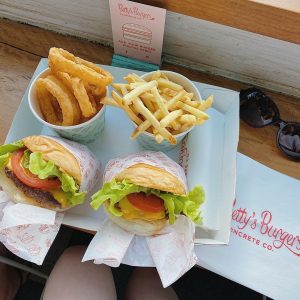 Betty's Burgers has made a name for itself in Sydney, and if you've ever had it, you'll understand why. Betty's only just met the threshold to be included in this list since it has locations nationwide, but we felt that such a high-quality burger couldn't be excluded. With a wide variety there's bound to a burger everyone can enjoy. The main reason Betty's didn't score higher is because there are a few other places whose burgers we preferred.
4. Fork and Grind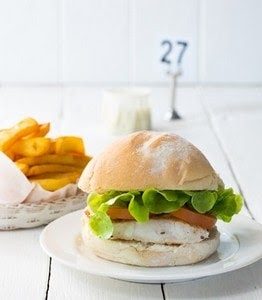 Fork and Grind is one of many cafes within the Sydney CBD, but out of all cafes that don't specialise in burgers, their burgers are amongst the top tier. A personal favourite with the Aussie Gossip team, their selected burger range are some of the freshest and yummiest around. If you are ever in Ultimo, it's definitely worth the stop if in need of a burger. 
3.Paul's Famous Hamburgers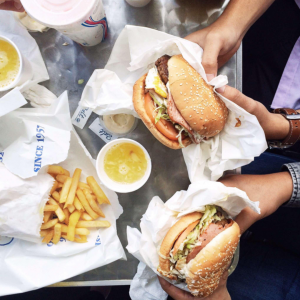 There's a reason why famous is in the name of Paul's Famous Hamburgers, because it's so delicious. Located in Sydney's south and established in 1957, Paul's has made a reputation for itself for having some of the best burgers around. If you haven't tried these old school style burgers, you need to go and get one right now! If only there were more than one location, this would have scored higher. 
2. Mary's Burgers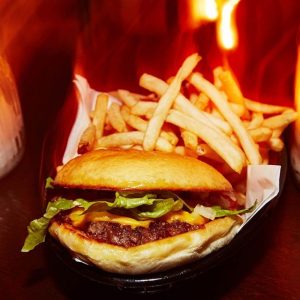 Mary's has become one of the top go-to burger places within Sydney, and it's only fitting such an iconic and tasty .. as Mary's takes out number 2 spot. With it's fun, metal-grunge style with live music and comedy standup, you can enjoy your amazing burger with some high quality entertainment. Who wouldn't like that? The votes were tied closely between Mary's and our number one, so this just missed out on our top spot. 
1. Bar Luca/BL Burgers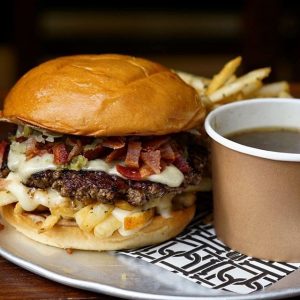 Bar Luca/BL Burgers has taken top spot on this list, and is the Aussie Gossip's favourite burger. Whether you're dining in at Bar Luca or getting BL Burgers delivered to your doorstep, you can be assured the burgers are always exceptional. Bar Luca/BL Burgers are a must try for everyone in Sydney, we promise you won't be disappointed. 
How did we do? Any burger places you want us to recommend? Comment below.