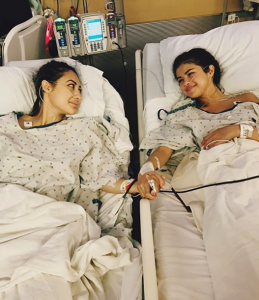 Selena Gomez is an activist when it comes to body positivity and loving the skin you're in. She's been a hot topic recently since her split from JB, but she's been making news for a totally different reason this week. Gomez shared an intimate video on her IG account promoting body positivity to shut down her body shamers in true Selena style— with total elegance and poise.
Gomez was spotted holidaying in Sydney with her closest gal pals, and photographed in a bikini for the first time since her recent kidney transplant. Gomez's close friend Francia Raisa donated a kidney to Selena to help with her fight against Lupus. The exposed photos brought on Instagram trolls that were quick to comment on her body shape and post-op scars.
Gomez called out her haters, by making it abundantly clear to the trolls claiming she looked pregnant and 'thicker',  that she's taking care of her body and well-being in safe and healthy way, following her operation and health scares. Gomez has always shared a strong view on body image and stands against the expectations of conventional & unrealistic beauty standards.
"The beauty myth- an obsession with physical perfection that traps modern woman in an endless cycle of hopelessness, self consciousness, and self-hatred as she tries to fulfill society's impossible definition of flawless beauty," Gomez wrote. "I chose to take care of myself because I want to, not to prove anything to anyone. Wind in her sails. 🌈💜"
Women should be building each other up to love themselves and feel comfortable in their own skin. Gomez's friend and co-star Amy Schumer reposted Selena's inspiring video in total support for her strong message:
'I love this post. Thank you @selenagomez One month from today our movie @ifeelpretty comes out and it is all about this. Our movie is about how we all struggle with self esteem. It's not a tale of a homely fat women finding her worth. It's about a person who struggles with feeling invisible and not good enough. I am inspired by Selena and my friends and women everyday daring to just feel good. No striving for another version of yourself. Let's love ourselves today. Just how we are.'
Love the skin you're in ladies!