From the creator of the long-running comedy show The Simpsons, and the sardonic, witty masterpiece that is Futurama, we are getting another animated comedy series.
The show, titled Disenchantment, will be an adult animated fantasy series that follows the alcoholic princess Bean, her crafty companion Elfo and her "personal demon" Luci. We'll be watching this trio as they traipse through the collapsing medieval kingdom known as Dreamland.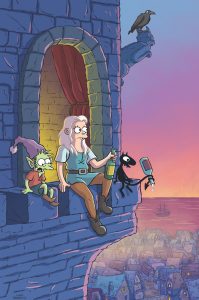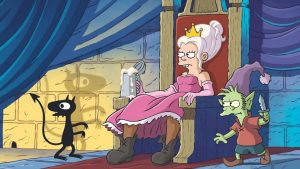 Futurama fans will be happy to hear that several voice actors from the cast will be a part of this new show. Returning members include John DiMaggio who plays Bender in Futurama and Jake in Adventure Time, Billy West (AKA Fry, Professor Farnsworth, Zapp Brannigan, Dr. Zoidberg), Maurice LaMarche (alien news reporter Morbo) and Tress MacNeille (sociopathic supervillain 'Mom').
At the MCM London Comic Con, John DiMaggio revealed his thoughts on the series, "It's as if The Simpsons fornicated with Game of Thrones… Matt is brilliant and the people who write the show are brilliant. They can be really dirty and filthy without being dirty and filthy. And it's a better way to tell a joke."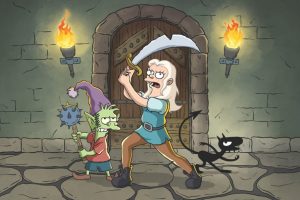 In a statement last year, Groening has said that the show is "about life and death, love and sex, and how to keep laughing in a world full of suffering and idiots, despite what the elders and wizards and other jerks tell you."
Disenchantment will be following the wave of trending animated adult comedies like Bojack Horseman and Rick and Morty, both of which exhibit the same darkly humorous mix of nihilism and existentialism.
The show will officially premiere on Netflix on August 17 with the release of 10 episodes.