On Saturday night Justin Bieber and Hailey Baldwin got engaged! The 24 year old singer (Bieber) popped the question to the 21 year old model (Baldwin) at a resort in the Bahamas.
The couple rekindled their romance a month ago, though they had previously dated on and off for years and are long time friends.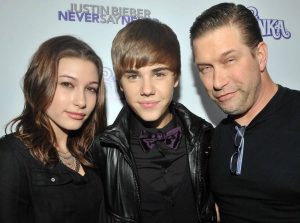 The parents of the two shared their elation over the engagement on Instagram and Twitter. Bieber's father Jeremy poster a picture of his son with the caption "Proud is an understatement! Excited for the next chapter!" while his mum Pattie Mallette posted the celebratory, "Love Love Love Love Love Love Love."
Love Love Love Love Love Love Love.

— Pattie Mallette (@pattiemallette) July 7, 2018
Hailey Baldwin's parents were also overjoyed by the engagement, her father Stephen Baldwin sent his love to the couple in a tweet.
Stephen Baldwin via Twitter: pic.twitter.com/GXm4w5oUkf

— Justin Bieber Crew (@TheJBCrewdotcom) July 8, 2018
Two eyewitnesses told TMZ how the proposal went down. TMZ recounts, "They say everyone was at a restaurant on the property doing salsa dancing when Justin's security told everyone to put their phones away, because something special was about to happen. We're told Justin then proposed in front of everyone."
Fans reactions to the announcement have been mixed with many still hung up on Justin's previous girlfriend Selena Gomez. In a picture posted by Theresa Mingus, Selena's friend and assistant, it appears as though Selena is unfazed by the news.
Stay tuned for more updates and news at Aussie Gossip!