Remember last year when Agriculture Minister Barnaby Joyce threatened to put down Johnny Depp's two Yorkshire terriers? Thankfully that didn't happen but Depp and his wife, Amber Heard are now in Southport Magistrates Court in the Gold Coast facing charges of dog smuggling.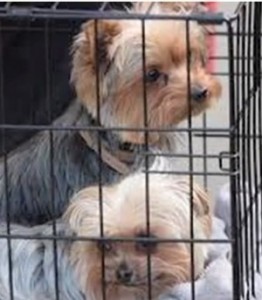 Earlier this morning, Heard plead guilty to falsifying her documentation upon entry to Australia last May. She said that she hadn't realised that the customs card was so important and that she had simply made a mistake.
SkyNewsAust: Amber Heard's lawyer says there was "no attempt to conceal, no intent to decieve" in bringing dogs to Australia #deppsdogs (Jo…

— International News (@intnewsday) April 18, 2016
Heard was facing two charges of illegally importing animals into Australia and one charge of falsifying a document, however the two importation charges were dropped this morning. If Heard had been found guilty, she could have faced up to 10 years in jail. The court saw a video where Heard professed her remorse and repeated her respect for Australian laws. She says that Australia is a "wonderful island that has to be protected". Depp had some input as well, saying that "Australians are unique too, warm and direct". The sentencing has been adjourned until 2.30pm but Heard and her lawyer have stated that they hope she will not receive special treatment.
Heard's lawyer says she has come here to answer to Australian justice. Should face equal treatment under the law. @abcnews @abcgoldcoast — Ashleigh Stevenson (@ash_stevenson10) April 18, 2016
UPDATE: Amber Heard has been sentenced to a one-month good behaviour bond. She won't have any recorded conviction thanks to this um, heartfelt video apology with husband Johnny Depp.
Agriculture Minister Barnaby Joyce has released a statement stating that he is pleased that the importance of the Australian ecosystem will not soon be forgotten around the world.
Statement from @Barnaby_Joyce following the conclusion of court proceedings today. #9News pic.twitter.com/xXyZaxzctw

— Nine News Australia (@9NewsAUS) April 18, 2016