Owners of an up-market Sydney eatery say they have been questioned by police for apparently promoting "unsavoury" and "antisocial" behaviour with their chalkboard list of expensive wines.
Giovanni Paradiso, who co-owns the Paddington food and wine venue, 10 William Street, posted a photo on Instagram on Saturday night of the venue's extensive wine list with the caption: "So according to NSW POLICE FORCE our blackboard with what we are pouring by the glass is promoting unsavoury behaviour. SYDNEY, WHAT THE F**K IS HAPPENING."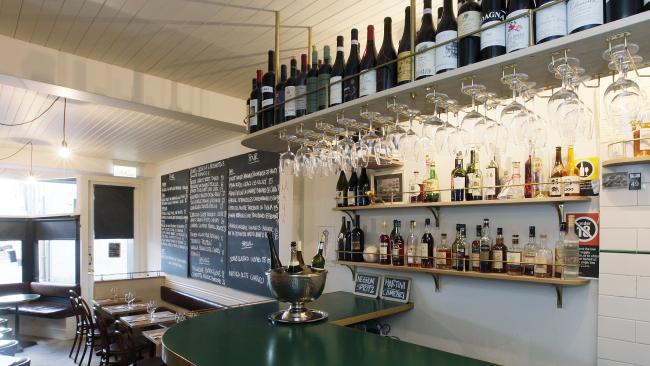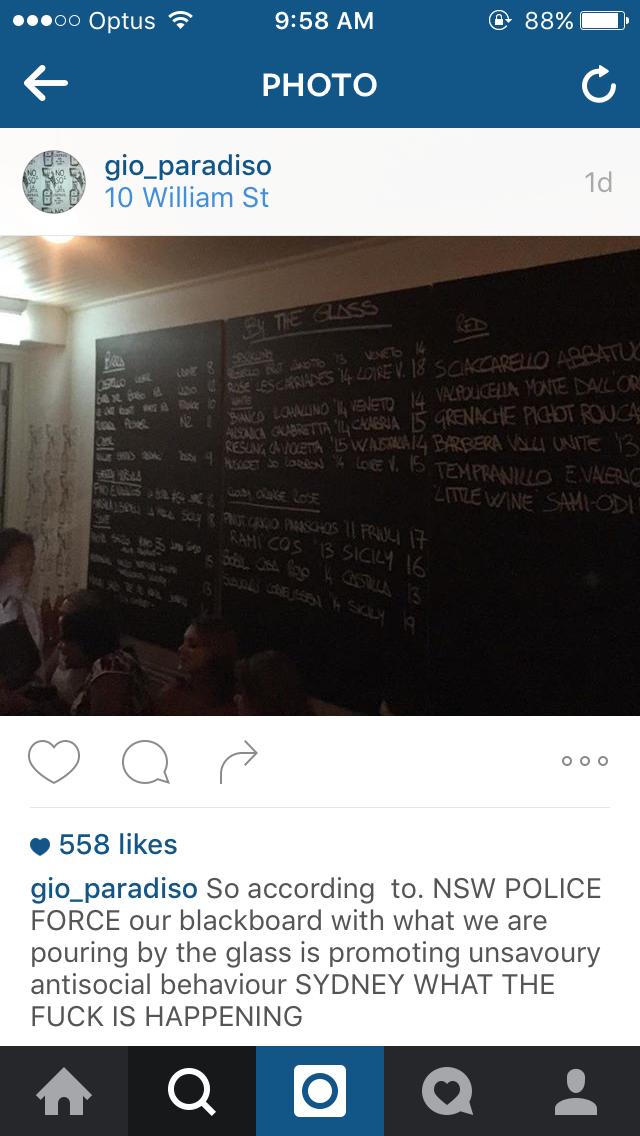 It is just one of the many licensed venues across Sydney's inner city, inner west and eastern suburbs inspected by police this weekend during a compliance and anti-social behaviour crackdown by the Central Metropolitan Region and Alcohol and Licensing Enforcement commands.
10 William Street co-owner Marco Ambrosino said officers who spoke to the venue's on-duty manager last night expressed concerns over a sign that read "free wine" — which was intended as a cheeky reference to the venue's additive-free wines — and the blackboard listing, which police explained could be seen as promoting heavy drinking because it didn't make clear the venue was also an eatery.
"We are a wine bar, so we put our wines by the glass at the front and hand people a menu when they sit down. We've had it like this for six years," Mr Ambrosino told Broadsheet.
"There's an undercurrent of disappointment among venue owners. There seems to be a real confusion of drinking and dining (and) when you can trade.
"We're very, very frustrated. None of us have had any trouble. The police are painting us all with one brush."
The incident comes amid growing concerns that NSW laws targeting alcohol-fuelled violence are suppressing Sydney's once-vibrant night-life.
In a fiery letter published on LinkedIn on Thursday, which went viral, Freelancer.com chief executive said nightspots were closing, foot traffic was down and Sydney was generally turning into an "international joke" due to the lockout laws.
"A succession of incompetent governments has systematically dismantled the entire night time economy through a constant barrage of rules, regulation and social tinkering," Mr Barrie wrote.
In a statement, NSW police confirmed to news.com.au a police operation on Friday and Saturday nights targeted anti-social behaviour, alcohol-related violence and compliance at a number of venues across the Sydney City, Kings Cross, Surry Hills and Newtown local area commands.
"During the operation about 155 businesses and licensed premises were patrolled," the statement continued.
"It is common for police to provide advice to licensees regarding potential licensing breaches or issues during business inspections.
"Twelve licensing breaches were detected during the operation."
The statement did not elaborate on concerns raised about the signage at 10 William Street.
The NSW lockout laws were introduced in parts of Sydney's CBD and Kings Cross in response to the 2014 one-punch deaths.
The laws, which have curbed violence by 40%, are to be reviewed this month.
Via News.com