Hamish and Andy have done what everyone hopes to do one day, travel the globe with their best friend. The pair have become household names in the Australian radio and TV scene.
Unbelievably, for a while it was not just Hamish and Andy. Hamish Blake opened up about their past on a podcast called Game Changes. He explained there was once a third co-star named Ryan Shelton who he met in high school.
After school, he met Andy Lee through university where they were completing a commerce/science degree at the University of Melbourne.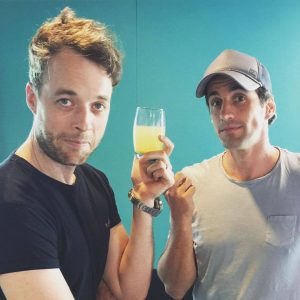 The trio started to do community radio together and then later got picked up by Craig Bruce, presenter of FOX FM (at the time).
"In the first year of knowing each other, we started doing community radio. Me, Ryan and Andy at SYN FM in Melbourne. We had no idea what we were doing, just winging it … at the most we knew we had a vague interest in comedy and that's it" he said in the podcast.
With their charm and comedic personalities all together, audience numbers started to increase and Andy was the first to know that they had made the big time. However, Hamish was not so positive about the whole thing, he just wanted to finish his degree and become a CEO someday.
It took Andy a lot to convince Hamish but he finally got on board with the other two. However, their journey took a turn when they realised Ryan to succeed their trio must become a duo. They talked to Ryan and asked if they could further themselves into a duo instead and Ryan agreed to sit out. Poor thing.
Hamish and Andy have continued to become very successful, being on the top spot in Melbourne radio shedding 2.3% at Fox FM.
You can still see Ryan in some of their specials such as the previous 'Hamish and Andy Gap Year: South America'. He appeared as the commentator who was constantly made fun off… wow guys cut him some slack!