WARNING: Your burger cravings are about to become real. Here are 3 of the best burger joints in Sydney— thank me later!
Mary's
A fan favourite at pop up food and music festivals, Mary's have cemented the title of 'best burgers in Newtown', and we'd have to agree. The venue is, dark, set in a dingy American-style joint with loud heavy metal music playing in the background. There's literally no other burger venue like it in Sydney which has given Mary's a killer reputation among burger connoisseurs. Mary's burgers are classic and delicious with toppings including melted cheese, blow-torched onions and sweet & smokey bacon. Did I mention their signature Bloody Mary comes with melted cheese on top? Don't knock it until you try it!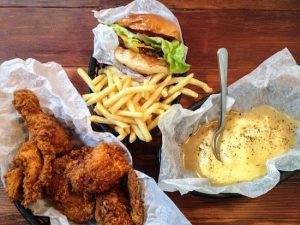 Chur Burger
In a laneway behind a roller door is one of Sydney's newest and best burger hot spots. The venue is covered in street art and delivers their 6 signature burgers straight out the backdoor into the courtyard and onto your table. Choose from beef, chicken, pork, lamb, fish or veg and toppings include red slaw and fennel mayo (are you hungry yet). No matter what you pick, these $10 burgers are worth remembering!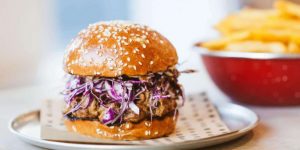 Down N Out
Inspired by the US burger chain In N Out, and after various pop-ups of this Aussie adaptation, Down N Out has found a home in Sydney and is serving up some of the best burgs ever! Their menu includes a double burger with double Wagyu beef, double American cheese, lettuce, tomato, onion and secret sauce. The chicken burger has Southern fried chicken thigh, shredded lettuce and house ranch dressing. And the Vego burger is made with a spinach-and-ricotta patty, American cheese, lettuce, tomato, raw onion and secret sauce. Located right in the heart of the CBD, it's almost impossible to resist this burger beauty!
These burger joints are seriously good and not to forget, they are some of the coolest food spots to eat at in Sydney. Goodbye diet, hello double cheeseburger with smokey bacon!