The Easter holidays are already over and have left our Instagram feed filled with friend's cute family pictures showing kids hunting eggs and searching for chocolate bunnies, photos of colourful egg baskets and all kind of animals wearing bunny ears, captioned with holiday greetings.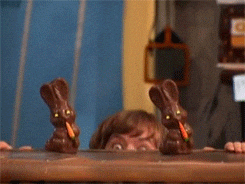 But celebrities are just like real people! They also enjoy eating obnoxious amounts of chocolate, dressing up for the holiday, and spending time with their families. We've rounded up the best of the bunch including Mariah Carey, Kelly Clarkson, the Beckhams and the Kardashian West family who took part in festive Easter activities, instead of showing up at Coachella.
And Kanye West probably fell way too much for the holiday: He dressed up as an Easter Bunny in a fluffy onesie for his kids. Well, the Kanye-bunny was kind of scary in our eyes. See it yourself in the pictures below!